CURRENT NEWS BULLETIN BOARD
Educational Opportunities
You may have heard the unfortunate news that the Invasive, Hemlock Woolly Adelgid has been found in northern Benzie County. We are working very closely with our partners across the state to monitor the movement of this species and plan our response. The good news is you can help! If you're interested in joining this effort, our partners at the Invasive Species Network are hosting a webinar on tools and monitoring techniques for volunteers.
The Grand Traverse Conservation District is having a Native Plant Sale.  The Plant Sale is traditionally held on the third Saturday in May and is a one day first-come, first-served event featuring over 70 species of Michigan native flowers, ferns, and grasses!  Learn More
Preserve our lakes future – Donate Now!
We are blessed to live in a spectacular watershed. But what does it take to maintain the health and beauty of this precious asset? It takes organizations dedicated to preserving the natural features and ensuring our enjoyment of this community long into the future. That is where the Long Lake Association and the Long Lake Foundation come in. These organizations have different functions but share the same goal–preserving the beauty of Long Lake and its watershed for years to come. Consider the two organizations to be a partnership working for the benefit of the environment and its members. Here is a closer look at the work each does:
LONG LAKE FOUNDATION
As a 501c3 entity, LLF provides leadership and financial resources for projects and programs that enhance Long Lake and the Long Lake Watershed.
LLF orchestrates the protection of the islands from fires and erosion
Makes possible the Long Lake/NMC Freshwater Studies program that monitors water quality on Long,
Mickey, Ruth, Fern, and Page Lakes.
Works in concert with the Grand Traverse Regional Land Conservancy helping to make the Timbers
Recreation Area a reality.
The LLF has made significant contributions to the enhancement and enjoyment of the lake investing over
$7,500.00 annually on average over the last 3 years.
LONG LAKE ASSOCIATION
As a 501c4 entity, LLA is the administrative arm of this partnership.
Through committees, the LLA oversees communication with the membership, monitors community
affairs with the township, the news and information source, promoting community involvement.
LLA is the boots on the ground and muscle that targets; Lake Science, Community Affairs, Fishing and
Wildlife, Lake Management which includes the detection and management of invasive species and Water Safety. For example, we continue to treat Eurasian watermilfoil twice each year to improve the quality of the lakes for boating, etc. using advanced technology to limit the amount of chemical required to treat the lakes.
Both organizations are vital for the long-term health of Long Lake Watershed. To assure cohesiveness, a prescribed number of individuals sit on both boards.
As you plan your end of year giving, consider a tax-deductible contribution to the Long Lake Foundation. Your donation will help preserve the beauty of Long Lake for the next generation. As always, your contributions to the Long Lake Foundation are tax deductible under the 501c3 designation of the IRS code.  These funds will go directly to the Long Lake Improvement Fund.
Thank you in advance for your generous donation.​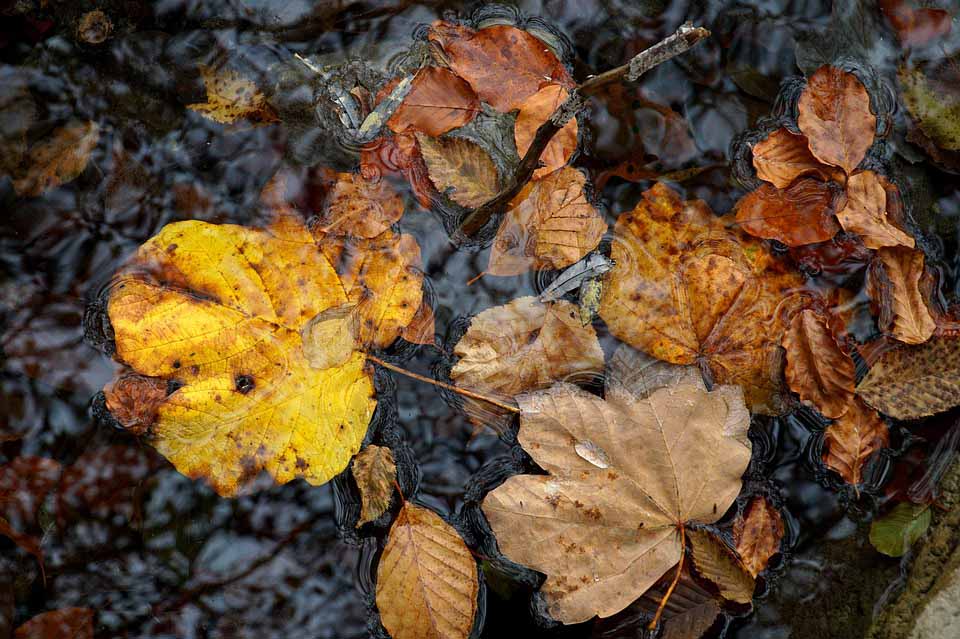 PLEASE DO NOT RAKE LEAVES INTO THE LAKE
As you're wrapping up your fall yard work, please remember to rake or blow your leaves away from the lake and not into it. It is inevitable that some leaves will naturally fall into the lake, however, an abundance of decomposing leaves will increase the nutrient levels in the lake which can lead to algae blooms and greater aquatic weed growth near your property. As an overabundance of algae and weeds die, they decay, causing bacteria to use up the oxygen in the water. This can kill fish and other aquatic life.
It is best to rake leaves away from the lake for pickup or even compost them in your yard.
Please share this information with neighbors and lawn maintenance services who may not know the negative effect that raking leaves into the lake can have.
Flushing the Future – The Challenge of Failing Septic Systems
The premiere showing at the Leelanau Clean Water Symposium. In this 16-minute documentary, we talk with nationally recognized wastewater experts, human health professionals and policy experts to discover the water quality risks posed by failing and broken septic system.
Joe VanderMeulen, M.S., Ph.D.
Science Journalism / Videography
naturechange.org
THEY'RE HERE!
Zebra Mussels
Zebra mussels have made their way on to Long Lake.  Our science team has been on the lookout for these pesky little creatures.  We thought we may have dodged a bullet as our calcium levels are low in the lake and that is what is needed to grow the zebra mussels shells.  Without rivers and streams flowing into our lakes the only way for these creatures to come is by hitching a ride on the hull of a boat, outdrive, sea plane, live well, and ballast tanks.
Unfortunately, there is no known predator of zebra mussels.  Zebra mussels multiple quickly and can be sharp to the hands feet of humans.  It appears that the zebra mussels are only starting to come on to Long Lake.
We need to be vigilant on washing our boats as they come in from other lakes like East and West Bay and other neighboring lakes with the invasive creature.
Here is an article from the Colorado Division of Wildlife explaining how to treat ballast tanks.
JOIN THE LONG LAKE ASSOCIATION
LLA 's only source of annual income is from the membership dues that our residents and families contribute.  These funds allow us to operate as a not for profit organization and provide operating funds for the Board to direct to projects and programs that are in the best environmental interest of Long, Mickey, and Ruth Lakes. Joining and Membership Renewal is easy!
Just click the button below labeled  JOIN LLA TODAY!  Your payment can be made using PayPal or by credit card.  Or, if you receive your newsletter by US Mail, a membership envelope is included in the Spring issue.  If you have not become an LLA member yet, please consider doing so this year!  LLA Membership is open to all interested parties.
Long Lake Association is 501c4 certified!
EURASIAN WATERMILFOIL WEED TREATMENT
Our Lake Management Committee will be treating various sites for Eurasian Watermilfoil on (date TBD 2021). Riparian homeowners will be notified directly if treatment is in front of their property. Please stay a safe distance from our treatment boats during treatment.
Thank you in advance!